Wander-Wiki article archive
The word "wiki" actually means quick in Hawaiian. A wiki website like Wikapedia is a website that allows collaborative editing of its content and structure by its users. WanderWiki is just one section of this website. WanderWiki is simply a collection of articles relative to the Wanderlodge 450Lxi authored by users and made public. Website volunteers manage articles in this section by implementing a user and verified public comment option to allow for collaborative editing. At the end of each article a comment tool is published. After this introduction article you will also find a comment tool.
How does this differ from a forum? ..... Website forum tools are great however often social, full of trial and error and redundant
50amp EMS and 30 amp EMS model 500 and 700 By Intellitec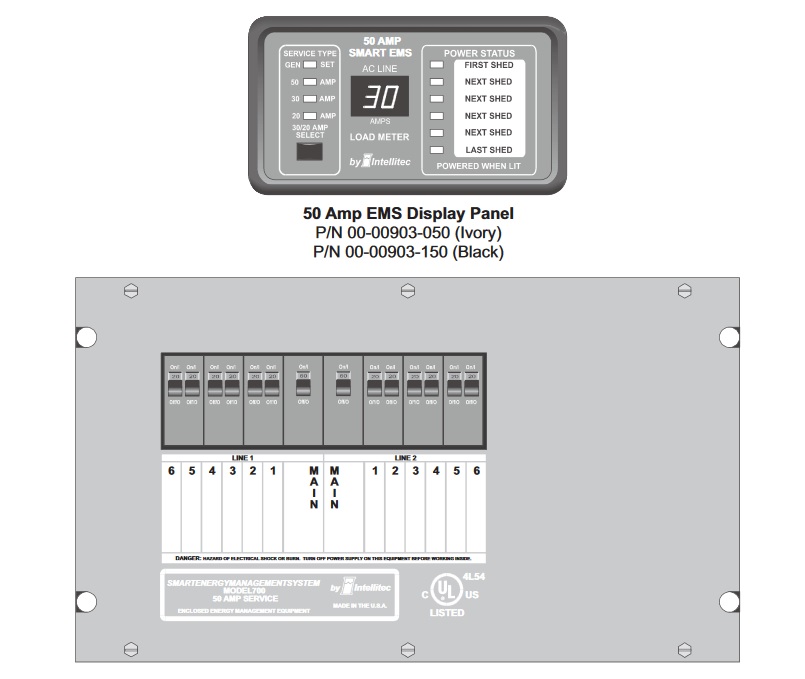 The 50 and 30 amp EMS consists of two elements: the Display Panel and the Distribution Panel. The 450lxi has two 30 amp pairs and one 50 amp pair. The 50 amp is powered only by shore or generator 240v. Each 30 amp pair is powered by one leg of incoming power from the shore/generator transfer switch. The power passes thru an inverter for drycamping 120volt electrical needs. The Display Panel is mounted on the rear wall in the bedroom.
pdf for the 50 amp model 700
450lxi https://450lxi.com/images/450pdf/50EMSModel700.pdf
intellitec site https://www.intellitec.com/wp-content/uploads/2019/08/53-00894-000.pdf
pdf for the 30 amp model 500
450lxi https://450lxi.com/images/450pdf/30EMSModel500.pdf
intellitec site https://www.intellitec.com/wp-content/uploads/2019/08/53-00912-000.pdf